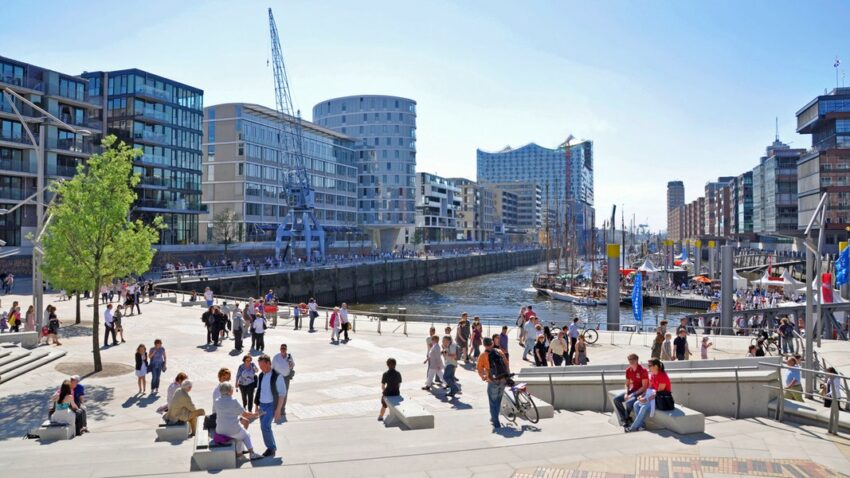 HafenCity Hamburg
Collaborative development of urban waterfront
What
HafenCity Hamburg is an urban regeneration project where the former inner-city port is being revitalised with new hotels, shops, office buildings and residential areas, with a strong focus on public spaces. HafenCity is considered the largest urban redevelopment project in Europe by landmass (approximately 220 ha) and it is expected to be finalized by the year 2025-2030.
Who
The entire development area of HafenCity is under the full ownership of the City of Hamburg, which named HafenCity Hamburg GmbH (HCH) its trustee in 2004.
How
The redevelopment project started with the approval of a masterplan by the Hamburg Senate in 2000. Since 2004, the regeneration project is being implemented by HCH that oversees all activities as the city's manager of development, property owner and developer of public infrastructure (roads, bridges, parks, social and cultural developments) based on public investment and revenues from the sale of land.
Since 2010, HCH introduced the regular allocation of urban land for apartment buildings based on concept tendering processes. For each individual housing plots, HCH enforces a strictly competitive bidding process where the crucial factor for awarding the contract is the quality of the concepts submitted (70%) and not the highest bid (30%). After ratification by the City Land Commission, the process is followed by an exclusive option period with an obligation to plan, in which the projects can be refined without the plot having to be sold straightaway.
The investor/user then has to proceed, in conjunction with the HCH, with an architectural competition, where it may commission site surveys and prepare the project submission for approval, since the purchase cannot go through until the building permit is received.
Throughout the whole process, HCH, the local authorities and the investor remain in constant dialog to ensure a high-quality design. The advantage of this process for the developer is that financing of the purchase price is postponed until after the building permit is granted; until then it has enough time to refine the quality of its project, secure finance and acquire potential users.
Why
What sets HafenCity apart from the other major international urban waterfront developments is its high expectations on quality that include, for instance, mix of uses, high standards of urbanity and ecological sustainability, and its innovative development process assuring that the quality criteria is put forward on selling and developing public land. With the city taking the lead, HCH demonstrates how public and private sectors can successfully cooperate in a way that shifts the core of the risk profile to benefit city and investors.