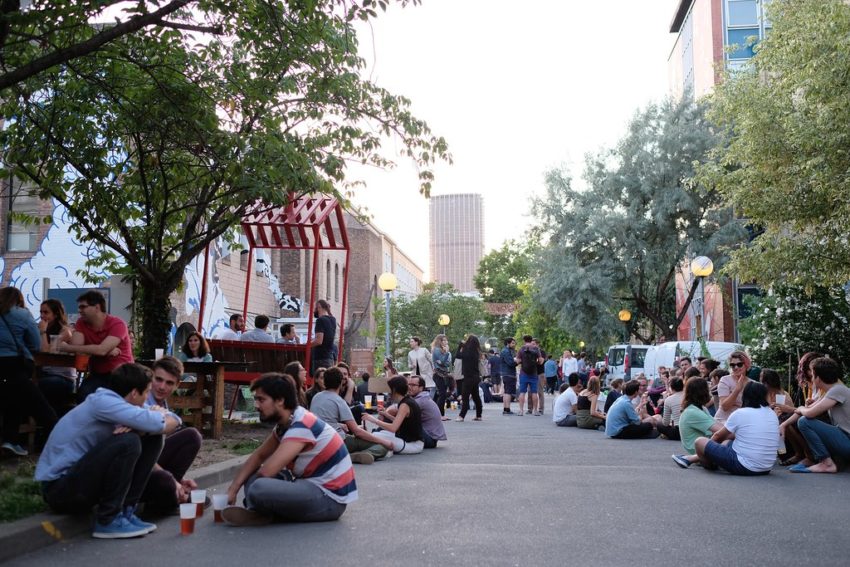 Les Grands Voisins
Temporary urbanism and solidarity housing in Paris
What
The Les Grands Voisins project encompasses the temporary occupation of the former Saint-Vincent-de-Paul hospital in the 14th arrondissement (district) of Paris while waiting for renovation works to start. Owned by the municipality of Paris, the space is managed by three non-profit organizations that have developed a wide range of activities with the aim of enhancing social inclusion and testing out new cooperative and supportive ways of living. From 2015 to 2017, this temporary occupation offered 600 accommodation spaces to people in vulnerable situations and enabled 250 associations, start-ups, artisans and artists to use this unique environment. Following the success of the project, a second phase was launched to promote new forms of experimentation, on the site and in the 14th arrondissement at-large.
Who
The site is supervised by SPL Paris & Métropole Aménagement, the planning agency of the City of Paris and the Greater Paris metropolitan area, together with three non-profit organizations – Aurore, Plateau Urban and Yes We Camp.
How
The City of Paris temporarily handed over the management of a former hospital (10.000m2 of buildings and 3.500m2 of outdoor area) to three non-profit organisations, which occupied the space with a mix of activities and functions. Their governance model is based on three thematic working groups and a committee for shared decisions as well as a general council. Currently used by more than 2,000 people who either live and/or work on the site, the project includes temporary homes for vulnerable persons, meeting places for neighbours, workspaces for small businesses, associations, craftspeople, artists, and urban farmers, and services such as a social restaurant, a well-being centre, a cultural centre, and so on.
Why
This project has become one of the most successful examples of temporary occupation across Europe, featuring a diversity of activities that emphasise solidarity, the circular economy, and place-based solutions. Les Grands Voisins demonstrates the possibility to experiment with new ways of living in the city, highlighting the diversity and creativity of uses that can emerge from such temporary developments, and which serves as an example for other projects in France and the rest of Europe.
RELATED HORIZON 2020 PROJECTS
• The REFLOW case study Fab City Grand Paris aims to enhance sustainable development and social integration by increasing the amount of urban agriculture through, e.g., co-creation, collaborative governance and urban strategies: https://zenodo.org/record/3588252/files/REFLOW_D4.1_The_REFLOW_Handbook_v1.0.pdf?download=1
Resources
Links