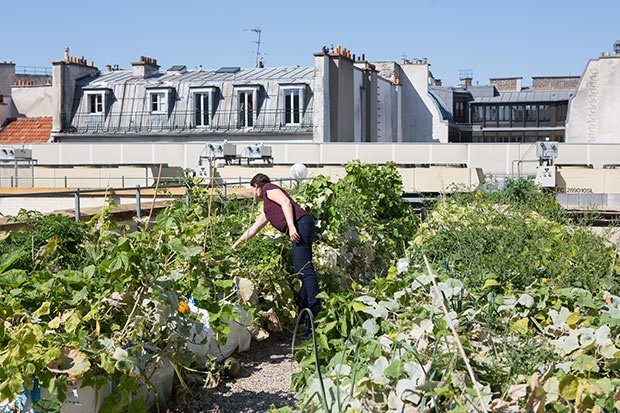 Les Parisculteurs
Programme for promoting urban agriculture
What
The Les Parisculteurs (Eng. Paris-farmers) programme includes a series of informational and support tools for green projects, with the objective of reaching 100 hectares of green roofs, facades, and walls by 2020, of which one third of should be dedicated to urban agriculture. This programme started in 2016.
Who
The programme is promoted by the City Council of Paris.
How
The Les Parisculteurs programme was launched with the signing of the "100 hectares objective" Charter by a wide range of partners originating from the public, semi-public, and private sectors. This programme relies on a communications strategy targeting the owners of roofs/rooftops, potential site managers, and the broader public. In order to do so, the city council launched a dedicated website and database, as well as a LinkedIn group to serve as the foundation for a professional network on urban agriculture. The project also organizes technical workshops on the rules and methods for urban agriculture taking place on rooftops. This programme also includes public calls for green projects that can take place on either public or private areas, for which the city council will provide administrative support in obtaining the necessary building permit(s). The rooftop or wall sites are distributed across and around Paris, and all arrondissements (districts) have at least one urban agricultural project. The calls for projects are dependent on the charter signatories and aim at improving the leverage of public initiative on private action. For city-sponsored urban projects, the city council may provide financial incentives for the incorporation of green wall and roof projects. An "Urban Agriculture taskforce" was established to oversee the calls for projects and to operate the 'Paris-farmers' network. The city programme is assisted by consultants and institutional experts for technical and strategic issues. The initiative is open to all Parisians—professionals or otherwise—who are passionate about agriculture.
Why
The Les Parisculteurs programme addresses the issues of sustainable urban development and social integration through the promotion of green spaces, with the aim of improving citizens' well-being. The programme has been implemented through several informational and support tools, such as technical assistants, enabling networking and advocacy, with the intent to facilitate partnerships among different stakeholders, including public authorities, agricultural associations, landowners and citizens.
RELATED HORIZON 2020 PROJECTS:
• The Reflow case study Fab City Grand Paris similarly aims to enhance sustainable development and social integration by increasing the amount of urban agriculture through e.g., co-creation, collaborative governance and urban strategies: https://zenodo.org/record/3588252/files/REFLOW_D4.1_The_REFLOW_Handbook_v1.0.pdf?download=1