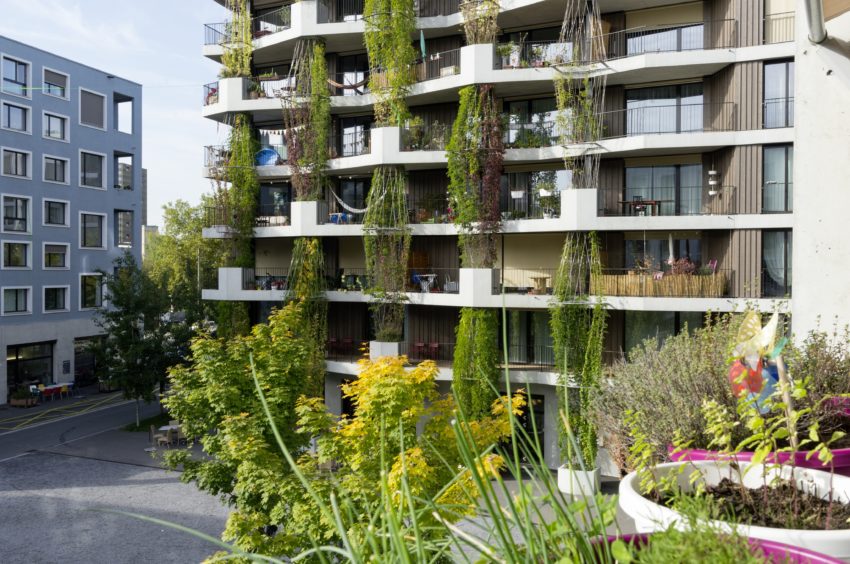 Mehr Als Wohnen
Housing cooperative for future generations
What
The Swiss Housing Cooperatives are set up to secure high-quality living environments with associated economic or social benefits for their members through joint economic operations.
Who
The Hunziker Areal in Zurich Leutschenbach was the first project for the housing cooperative Mehr Als Wohnen (Eng. more than housing), which was founded in 2007. It is a flagship project that strengthens the identity of the growing district of Zurich North. It has increased awareness of the Swiss cooperative scene and its important role in the construction of affordable and high-quality living and working spaces. As the name suggests, the Hunziker Areal, with more than 40,200 square meters under its management, is much more than a typical housing cooperative: it is an urban microcosm containing 370 apartments, restaurants, guesthouses, shops, studios and more. In addition, the project also offers around 150 jobs and housing for 1,200 people with very different housing requirements and backgrounds.
How
Swiss housing cooperatives are well-established, non-profit legal entities—usually a cooperative or a corporation—which owns real estate and which can manage the development of several units to over a thousand dwellings. They are a distinctive form of affordable home ownership with characteristics that distinguish them from other forms of housing such as single-family home ownership, condominiums or renting. In Switzerland, housing cooperatives represent more than 5% of the entire country's housing stock (and nearly a quarter of Zurich). The Mehr Als Wohnen co-operative is financed by a variety of sources: members of the cooperative pay an equity deposit which is refunded (with interest) when they vacate their residence; the state grants special low interest loans; and the co-op issues bonds, and borrows through mortgages from banking institutions. The weight of each of those funding instruments is, respectively, 10%, 10%, 15%, and 65%.
Why
The project provides a stable long-term living environment for residents across different generations, cultures and social backgrounds, offering a mixture of traditional and new housing types, additional rooms or workspaces to let, large scale flat-sharing communities, satellite homes, and a wide variety of common rooms and recreational facilities. The residents assist in the development of the area by working together in teams, participating in workshops and voting for decisions, and actively engaging in political processes.
RELATED HORIZON 2020 PROJECTS:
• Sargfabrik, a housing cooperative in Vienna, Austria, is another successful example enabling affordable living and social inclusion, studied by the project OpenHeritage. Sargfabrik is similarly governed by the residents in co-determination and financed from different sources: https://openheritage.eu/wp-content/uploads/2020/01/D2.2_Observatory_Cases_Report.pdf
Resources
Links
mehralswohnen.ch/
youtube.com/watch?v=5WB90...