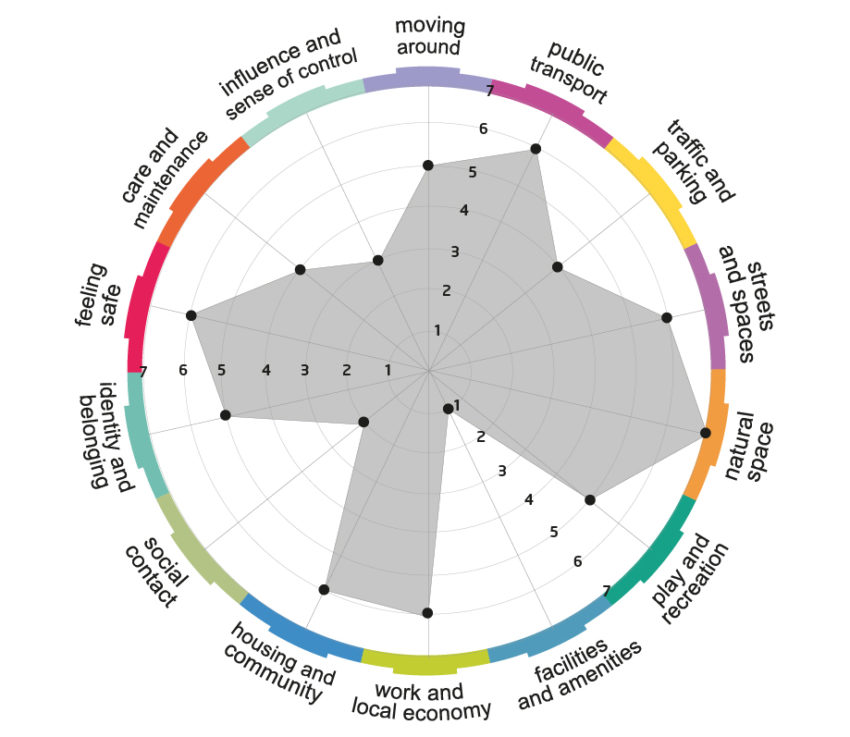 Place Standard
Structure for conversations around place quality
What
Place Standard is a formative evaluation tool designed to provide a framework for structuring conversations around places. It includes 14 questions on the physical aspects of a place (buildings, open spaces, transport) as well as the social aspects (for example, whether people feel they have a say in decision-making). Each question is rated on a scale from 1-7. Place Standard was officially launched in December 2015.
Who
The tool was developed by Architecture and Design Scotland (A&DS), together with NHS Health Scotland and the Planning & Architecture Department of the Scottish Government.
How
The Place Standard tool is structured around 14 themes. These themes cover both the physical and social aspects of a place, from movement and traffic to a sense of belonging and having a voice in how things change. Each theme has one central question for participants, aided by secondary questions that highlight particular aspects for people to consider. All questions are phrased in such a way that they always refer to people's experience of the place. In the end, however, the answer is a simple score based on a scale from 1-7, where 1 means there is a great deal to improve and 7 means that there is little need for change. The scores of all fourteen themes are plotted in a spider diagram, which allows for an immediate visual representation of the perceived strengths and weaknesses of the places being analysed.
Why
Although the Place Standard is a rating tool, it is designed not to simply analyse a site. Rather, it is intended to bring people together, overcoming professional and non-professional boundaries to discuss the values and aspects of places against a structured framework. It provides a flexible model, one that can be adapted to different scales and methods of inquiry, and effectively, it represents a coordinated effort to drive implementation, which has led to the development of a variety of applications both within and outside Scotland.