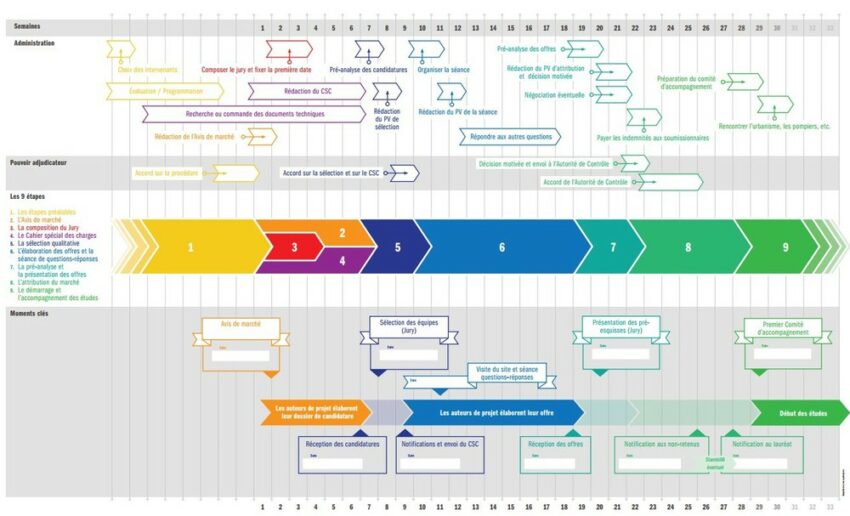 Practical Guide to Architectural Contracting
Supporting authorities in project selection
What
The Practical Guide to Architectural Contracting (fr. Guide Prtique des Marches d'Architecture) is an online tool intended to inform and advise public contracting authorities in the selection of a project author for architectural projects in particular. The aim is to share experience and knowledge on the measures that should be taken in the process of architectural contracting, to provide practical advice, and raise awareness among the public authorities on the importance of architectural quality. The Guide reminds that architectural excellence begins with the implementation of a quality public procurement process.
Who
The Practical Guide to Architectural Contracting was initiated and developed by the Architectural Unit of the Wallonia-Brussels Federation.
How
The Guide divides the process of contracting a project author into nine stages. Each of these steps provides a detailed explanation that guides the reader through the process. The stages address the definition of the mission, the preparation of the contract, the call for open positions as well as the composition of the jury in that corresponding order. Furthermore, it provides guidance on the drafting of the project's specifications, the qualitative selection of the teams participating in the final stage of the competition, as well as on the implementation of the final stage (in which the teams are to receive the specifications, meet the client, and to participate in a question-and-answer session). The seventh stage involves pre-analysis and the presentations of offers while the subsequent eighth stage includes the proposal of the winning team by the jury while informing all of the other participants. Finally, advice is given on the creation of a steering committee to support the project author and the client so as to ensure development of a quality project. Each stage of the process includes a comprehensive explanation of that stage's duration, its stakeholders, and the measures to be taken. The Guide provides regularly updated, downloadable standard documents for each stage, including model contract notice and a summary on the organization of a jury, in order to enable the readers to keep pace with the changes and developments in the regional legal framework as well as in public procurement and construction sectors.
Why
The Practical Guide to Architectural Contracting is a tool that provides easy access to a vast amount of useful knowledge on contracting in architectural projects for the public administration. It offers exhaustive and up-to-date knowledge as well as a practice-oriented approach which guarantees a quality public procurement process and thus sets an example for an effective tool to foster architectural quality in French-speaking Belgium and beyond.