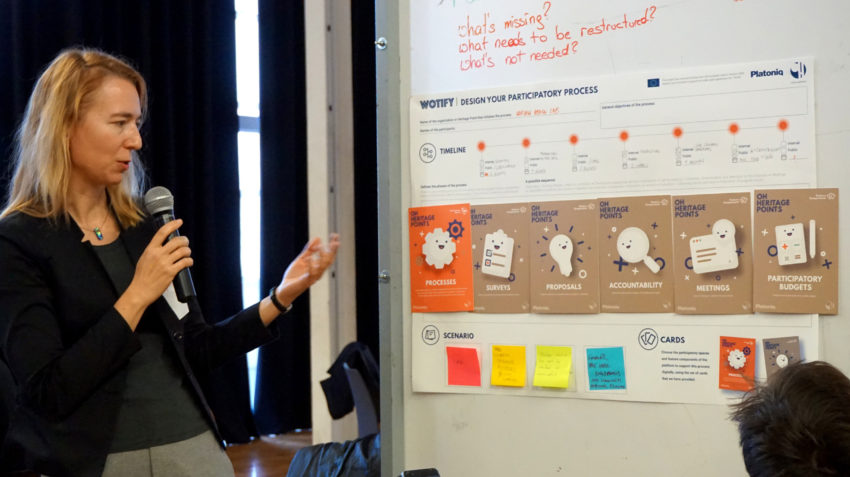 Praga Lab
Connecting local stakeholders for urban renewal
What
Praga Lab is part of the OpenHeritage Project, and focuses on an area of Warsaw that is a classic example of the processes associated with gentrification; significant urban heritage features, an industrial past, a deprived economy, pre-existing stigma, artistic hotspots, incoming private investment, and a large-scale municipal 'urban rehabilitation' project. The lab mainly aims to reconnect local communities, NGOs & other actors to the redevelopment process, using heritage to form the link. It was established in June 2019 with a planned timeframe of three years.
Who
OpenHeritage is a Horizon2020-funded project coordinated by the Metropolitan Research Institute (Budapest). The Praga Lab is one of six Cooperative Heritage Labs set up by the project and is run by the Warsaw branch of the Association of Polish Architects (OW SARP).
How
The Lab team's first step was to conduct research identifying the most relevant values of local heritage and the stakeholders with whom cooperation should be established. This included desk research, a wide range of interviews, following and participating in public debates, relevant artistic activities, and so forth, as well as social media engagement. With that research as a foundation, the Lab is now following three complementary paths of action: (a) constructing a map as part of the online participatory platform of the lab, aimed at revealing the different dimensions of local heritage, (b) launching a call to find artists and creative entrepreneurs whose work could be pertinent to the Praga district and its heritage and (c) planning workshops to develop model solutions for the adaptive reuse of heritage.
Why
It is the general goal of all OpenHeritage Labs to provide a testing ground for developing methods of involving the local community in the practice of adaptive reuse, as well as to create transferable governance and financial models for the same purpose. The Praga Lab in particular is heavily engaged with the intersection of the built environment and the local economy, moving beyond traditional conservation approaches to heritage and into the territory of local governance and redevelopment processes. In other words, heritage here is simply the intersecting link between an international research project (and EU support) and the specific, local qualities of an area undergoing major change. More importantly though, the Lab is a fixed-time experimental format that has the potential to be integrated into local governance and have a long-term impact, developing models that could be used in a wide range of conditions and not necessarily be heritage-related.
Resources
Links
ohpraga.pl/?locale=en
openheritage.eu/heritage-...