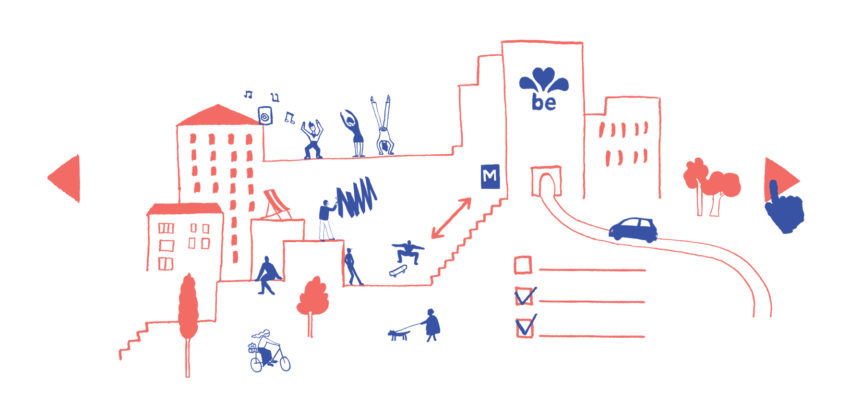 Pyblik platform
Focusing on the culture of public spaces
What
Pyblik aimed to promote a culture focused on public space among professional stakeholders in the Brussels-Capital region. Created in 2007, it is comprised of a training and knowledge centre piloted by four university architectural colleges in Brussels, and funded by several public entities.
Who
Pyblik resulted from collaboration among the four architectural colleges in Brussels: LoUIsE (ULB); architectural department (KU Leuven, Sint-Lucas campus), Cosmopolis (VUB) and CREAT (UCL).
How
The Pyblik initiative was designed and developed by the Brussels-Capital Region in 2007 with the aim of centralizing know-how and expertise about the public space in Brussels. In its first years, it aimed at the network of actors working on public spaces in the Brussels-Capital Region, mainly public officials from the region and the municipalities, and the designers and private offices, including two core components: a training centre and a knowledge centre. In the former, Pyblick offered thematic days and "Public Space Adviser" training to officials in order to promote the quality of public spaces in the region. In the latter, the knowledge centre offered advice and references to all those involved in public spaces through an online database, which includes a declaration for quality public spaces in Brussels, several publications, a reference bank, etc. The target audience was later enlarged to include the general public as privileged users of public spaces, and the promotion of training programmes, conferences, workshops, study trips and debates on public space.
Why
Although it concluded its activities at the end of 2017, the Pyblik training centre included an innovative approach to mentoring officials responsible for the coordination of small- and large-scale transformation of public spaces, by offering regular training sessions (mainly exposure to success stories), combined with a peer-to-peer exchange and private mentoring sessions.
Resources
Links
pyblik.brussels/fr
urbanstudies.brussels/edu...