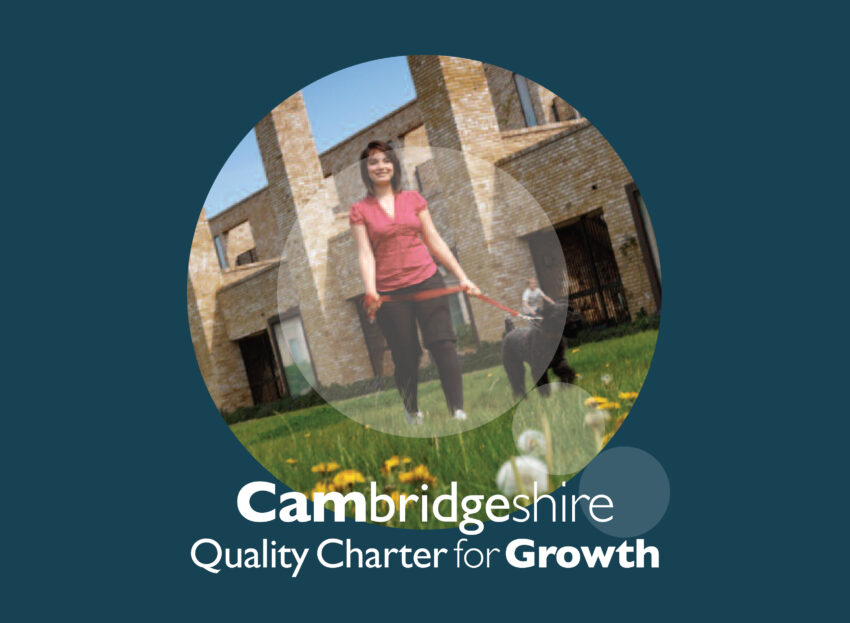 Cambridgeshire Quality Charter for Growth
Securing the quality of the design
What
The Charter sets out core principles for achieving quality new homes and neighbourhoods in new developments in the five authorities that make up the County of Cambridgeshire. There are four themes (Community, Connectivity, Character and Climate Proofing), and each is supported by nine guidelines. The principles are based on what works, with illustrations. The Charter was adopted by the local authorities in 2007, and enables the authorities, developers and landowners to collaborate on meeting higher standards. The Charter is freely available in a short booklet, and has been referred to in national planning guidance.
Who
The Charter was devised by the consultancy firm URBED following research into building higher density homes and better neighbourhoods for the Commission for Architecture and the Built Environment (CABE). Recognising the need to bring stakeholders together and supplement their knowledge a series of study tours were run to exemplary housing schemes in South East England, the VINEX suburbs in the Netherlands, and Vauban and Rieselfeld in Freiburg, Germany. Findings were discussed at workshops involving over a hundred people representing key stakeholders before the Charter was published in draft and tested out before it was finally adopted.
How
The Charter is used by a Quality Review Panel that considers all major schemes and reports back to the developer and the local authority concerned. With experts on each of the themes the Panel is able to improve design before schemes are approved. It works because it is short, compatible with other plans, drawn up with the active engagement of the different stakeholders, and used to assess major applications for planning permission.
Why
Cambridgeshire is one of the fastest growing areas in the UK, with a huge demand for housing that is both affordable and sustainable. A Structure Plan and Local Plans had identified the preferred sites for growth, but how was quality design to be secured? The government funded Cambridgeshire Horizons to help progress the plans, and URBED were funded to run a series of 'looking and learning' study tours. To apply the lessons workshops debated the main lessons, which were published in a Charter. A subsequent report in 2017 on 'refreshing the charter' found that the Charter process was welcomed by developers and professionals alike. However, the importance of community cohesion required greater emphasis as much more affordable housing was required than had been built.