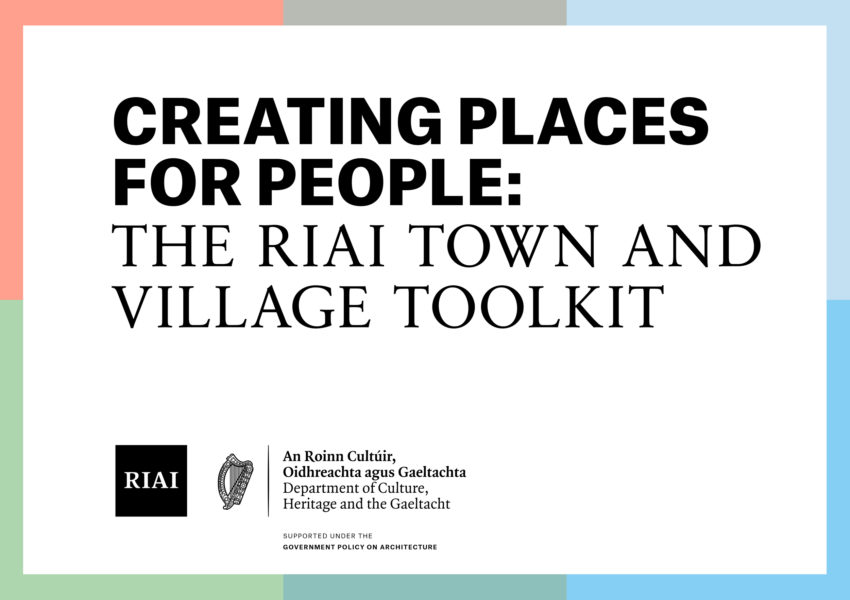 RIAI Town and Village Toolkit
Supporting the revitalisation of Irish towns
What
The RIAI's 'Town and Village Toolkit' is a practice guide containing a set of principles and objectives categorised under six themes that provide a roadmap for local working groups (Town teams) to develop a community-led vision alongside a list of tasks and projects that can be realised for each town concerned. In each chapter, the toolkit explains the challenges and opportunities presented by each specific theme, and identifies several design tools, useful reading material, and case studies of realised projects.
Who
The Toolkit was developed by the Urban Design Committee of the Royal Institute of the Architects of Ireland (RIAI), with the support of the Department of Culture, Heritage and the Gaeltacht.
How
The "Creating Places for People" Toolkit provides a methodology for local 'Town teams' to plan and assess the quality of their towns and villages. The working groups should include a variety of local stakeholders, a local authority representative and an architect or urban designer to help with identifying constraints and with making the strategic decisions needed to improve urban areas. The Toolkit contains a set of principles and objectives under six themes: 1. Health, Well-being & Happiness; 2. Connectivity, Accessibility & Movement; 3. Variety & Viability; 4. Environmental Sustainability; 5. A Sense of Place, Urban Form & Character; and 6. Vision, Governance & Management Co-ordination. For each theme, the Toolkit points out design tools and useful further reading, followed by case studies of realised projects. The design tools should be implemented with the help of an architect/urban designer, including a variety of approaches for improving places, such as: planning compact towns, identifying the most convenient routes and streets for people, improving the quality of public places and streets, analysing and evaluating how people use places, developing a multi-modal movement strategy, and so forth. In the end, if possible, the working groups should attempt to negotiate the commissioning of a Town or Village Design Statement that will influence future development and improve the quality of their area.
Why
The Toolkit provides a roadmap for local working groups to assess the quality of their towns and villages, aiming to define a common strategy and specific projects, together with members of the community, architects, planners and local council representatives.
Resources
Links