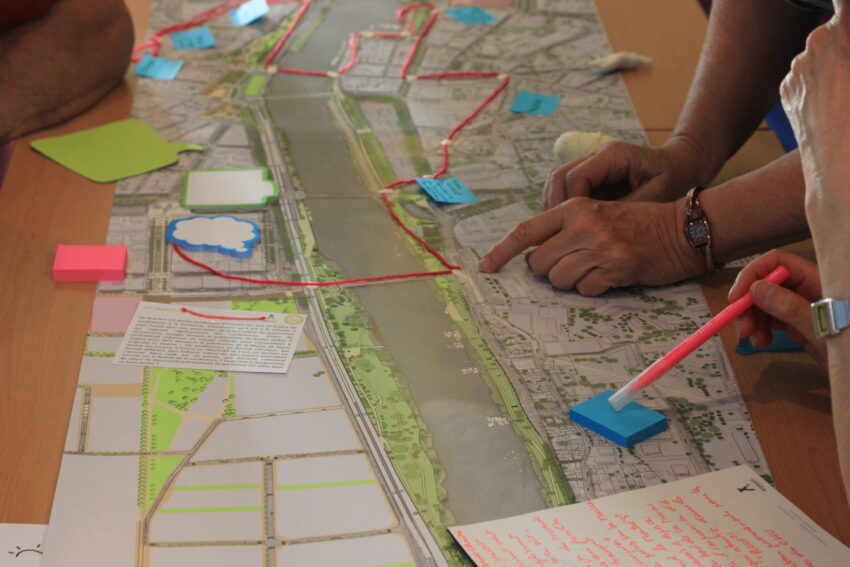 Rives Vivantes
Participation as a motor for new developments
What
The Rives Vivantes urban revitalization project aims to reclaim the riverbanks of the Maine River by actively engaging local actors in the decision-making processes. This project covers a large area, from the Baumette Convent to Saint Aubin Island, however current and future projects (up to 2023) focus on four priority areas: the Promenade de Reculée, Boulevar de la Maine, Quais Gambetta and Félix-Faure, and Quai Ligny. After initiating a co-management process for this area and allocating a dedicated budget for the use of "soft skills," Rives Vivantes was established in consultation with 34 structures (including associations, river stakeholders, private groups, residents, neighborhood councils, planners, landscape architects, elected officials, etc.). It focuses on five main areas of work that have been approached via landscaping, buildings, and street furniture, as well as aspects of economic models, partnerships, and river maintenance, alongside the cultural events and services provided in place.
Who
The Rives Vivantes project is led by the city of Angers and its public city planner ALTER. At the very start of the project, private consultants were commissioned to facilitate the participatory process and as such have developed an eight-step-methodology to guide the participatory processes.
How
The transformation of the riverbanks of the Maine is a result of a series of different participatory phases. The project team organized a consultation in 2015 that aimed to identify the main challenges of the area, while the subsequent second phase focused on engaging and consulting with the area's main actors (e.g. the neighbourhood and associations that have private facilities located at the river). Meanwhile, a first collaborative workshop was held in 2016 with the aim of reflecting on the potential uses of the banks of the Maine as well as the implicit needs associated with these places. As such, the project took an incremental approach, continuously adapting to emerging challenges and different situations, being finalized in October 2018 in the form of a "program plan." In 2018, five reflection workshops (including one for feedback) took place with private and public actors and associations on various themes: history, geography, soft continuity, biodiversity, and ecology. In 2019, three other workshops were held on highly targeted subjects, bringing together a small panel of experts to study the management and development of the river, including its tourism. This work resulted in the form of a "place diagnosis" shared between the actors. Building on these experiences, the Rives Vivantes project aims to involve more broadly the citizens in upcoming years. For example, partnerships with various Angevin schools are to be renewed on several projects.
Why
Rives Vivantes makes a case for a carefully designed and collectively led urban development process that leads to higher urban design quality. It highlights the potential of sustainable change in terms of urban places and exemplifies the dialogue that takes place between the citizens, local institutions, and public bodies when it comes to creating the city together.