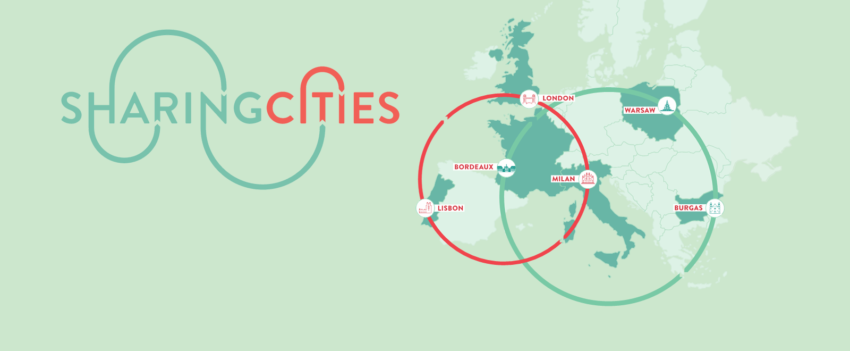 Sharing Cities
Common solutions for shared challenges
What
Sharing Cities is an international project addressing some of the most pressing urban challenges facing today's cities, such as energy use, low carbon transport and building capital, and the harnessing of data for the benefit of the city. The Sharing Cities consortium brings together six European cities with diverse and complementary profiles in order to enable them to share and prototype innovative urban solutions. Lisbon, London, and Milan – the three 'lighthouse' cities – share common challenges and experiences and are committed to working together in developing and implementing replicable urban digital solutions and models for collaboration. The 'Fellow' cities of Bordeaux, Burgas, and Warsaw play an active role in driving the adoption and exploitation of site-specific solutions.
Who
On a larger scale, the Sharing Cities programme includes 35 partners and is coordinated by the Greater London Authority. On the city scale, it is often managed by the local municipalities. By promoting public-private partnerships, the project brings together multiple stakeholders such as researchers, citizens, businesses, and non-governmental organisations in order to deliver and implement the Sharing Cities strategy, aiming to engage over 100 municipalities across Europe.
How
Sharing Cities offers a framework for citizen engagement and collaboration at the local level, thereby strengthening trust between cities and citizens. The project draws on €24 million in EU funding, through which it aims to trigger €500 million in investment. By engaging with the people, Sharing Cities develops participatory mechanisms for the co-design of smart city solutions.
Sharing Cities demonstrates the significant benefits of smart city concepts and solutions by focusing on the needs of low-energy neighbourhoods: retrofitting buildings, installing integrated energy management systems and smart street lights, and introducing shared-use electric mobility services. The project relies on urban sharing platforms to manage data from a wide range of sources, based on the principles of open data.
Why
Sharing Cities is a successful example of a citizen-centred urban development strategy. By establishing structures and services for sharing the economy, the project encourages a behavioural shift in terms of sustainability and provides examples of best practices that can be replicated in other cities and contexts. Moreover, the strategy highlights the importance of PPPs in developing solutions for some of today's urgent challenges (e.g. sustainable energy management).