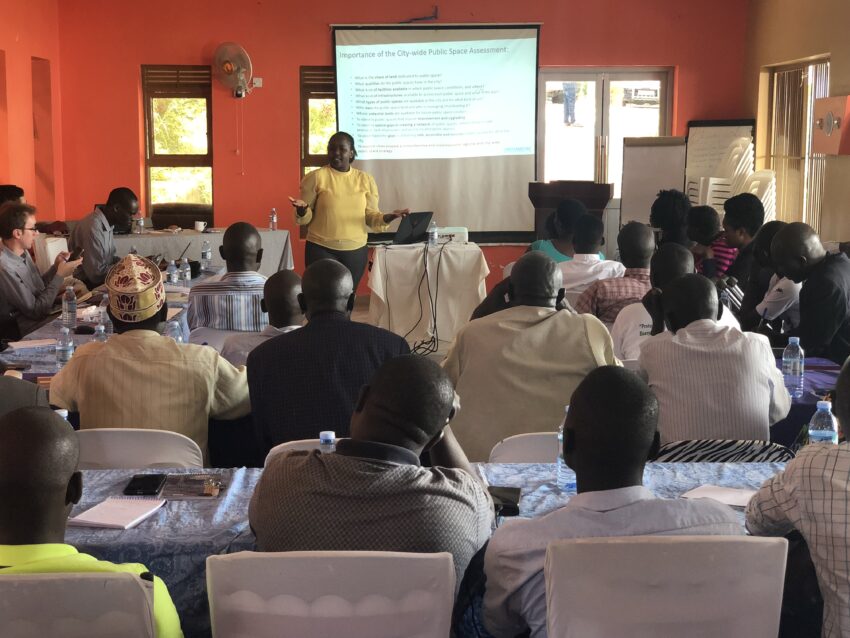 Soft power governance for urban design in emerging, developing and crisis contexts
What
Influencing urban design through soft power goes far beyond the remits of the European context analyzed by the Urban Maestro project. Therefore, in parallel to the inventory work conducted in Europe, the project has sought to identify a few cases that could illustrate the informal dimension of urban design governance in emerging, developing, and crisis contexts.
There is often a strong perception that in developing countries the public authority may not have all the needed capacity or the needed leadership to deliver higher quality urban environments. While this does not fundamentally differ from what is happening in European countries, it is generally exacerbated by the combination of worse economic conditions, weaker institutions, faster-growing cities, and greater exposure to natural disasters or political instability.
Mobilizing informal tools of urban design governance may, under such circumstances, appear as a solution to overcome local limitations in terms of availability of resources or technical capacity. Using the soft powers of the state can also offer greater flexibility in rapidly changing contexts and contributes to building continuity and buy-in as they enable and support the positive initiative from wherever it comes – communities, politicians, the private sector, or universities.
How
The community-led city-wide public space inventory and assessment tool that was developed by UN-Habitat Global Public Space Programme is meant to assist local governments and partners to assess the network, distribution, accessibility, quantity, and quality of their public spaces in a cost-effective manner. At its core, the tool mobilizes an open-source application to collect and organize public space data from various sources. Beyond the data collection exercise, the process mobilizes stakeholders and stimulates a debate on public-space-related strategies and policies, often leading to institutional reforms and increased political commitment for higher quality public spaces. Since 2015, it has been implemented in cities such as Dhaka, Bangladesh; Wuhan, China; Ulaanbaatar, Mongolia; Durban, South-Africa; Addis Ababa, Ethiopia; Santo Domingo, Dominican Republic; Khan Younis, Palestine, and others.  https://unhabitat.org/city-wide-public-space-assessment-toolkit-a-guide-to-community-led-digital-inventory-and-assessment
Block by Block is an innovative collaboration between Mojang, Microsoft, and UN-Habitat, which integrates the popular computer game Minecraft into public space planning, to get community members more involved and reach out to specific groups of users. Minecraft is a surprisingly effective—and cost-effective—way to visualize a three-dimensional environment, in a format designed for rapid iteration and idea-sharing.  The tool is particularly appealing to youth groups and constitutes an effective way to engage them in taking a more proactive role in the policy debate about public spaces design and management. It has been tested and applied in more than 35 cities across all regions of the world. https://www.blockbyblock.org/
From a more academic perspective, a preliminary analysis of the use of formal and informal tools of urban design governance in South Africa was conducted by prof. Karina Landman, University of Pretoria.  The paper reveals how the renewed focus on development in the post-apartheid era has been enhanced using soft-power in the governance of urban planning and design. It goes through all categories of tools identified by project Urban Maestro and provides more details on their use in South Africa, and how they have contributed to improving the urban environment. The analysis emphasizes the key role played by both individuals involved as strong champions, as well as by groups and organisations that are committed to improving the quality of the built environment and through that, the quality of life of the people using it.
The city administration of Kigali, Rwanda, has sought to overcome the limitations of the formal planning system by setting up mechanisms that allow inhabitants to take an active role in both the design process and the proper construction works that it involves.
It is a shared experience of many cities – in both Global South and North – that neither formal nor informal approaches are proving fully effective in addressing the transformation of slums and informal settlements.  Alignment of stakeholders' action and continuity in the application of public policy are crucial ingredients for success in all contexts but this is often challenged by political changes.  Cities that have successfully developed a local culture of urban quality tend to perform better when it comes to implementing longer-term urban transformation strategies, as exemplified by the case of Medellin, Colombia.
Overall, the dominant planning culture of most public administrations throughout the world tends to consider the master and zoning plan as the main legal and technical planning tool. In disasters or post-conflict scenario's, however, in which cities tend to change even faster (in terms of population, urban form, quality of public spaces), and in which public institutions are typically weakened, destabilized, or non-existent, the master plan shows little efficacy in steering urban developments.
In disaster or conflict struck cities, whereas the international relief system proves generally efficient in the quick delivery of material support to affected areas, its ability to address the urban and spatial dimension of recovery is hampered by its organization in sectorial "pillars", as exemplified by the cases of Iraq, Syria or Haiti. UN-Habitat has developed for such contexts a type of soft governance approach, known as the "Urban Recovery Framework" (URF), which enables area-based coordination and programming. Through the URF, the public authority or its partners can engage in actions such as rapid urban profiling, rapid urban planning, or brokering support which are not expressly imposed by law on the local planning system but reveals efficiency in taking strategic territorial decisions within a fast-changing context. This would, for example, apply when it comes to defining the location or design of "temporary" settlements structures, or review laws for territorial development that were taken during the conflict and may require review as part of the national reconciliation process. UN-Habitat experience in Kosovo, Palestine, Nepal, Afghanistan, Pakistan, or Somaliland provides positive examples of post-disaster or post-conflict urban recovery.  However, all these cases revealed the need to blend soft- and hard-power governance to generate real and lasting impact and change.
Why
Creating mechanisms of urban design governance that mix soft- and hard-power is a way to mirror the complexity, diversity, and evolution of societies and cities, therefore facilitating the implementation of projects, increasing cities' resilience, and, ultimately, enabling the change towards a more sustainable urban future.
In the analysis of the few examples documented here, the typology developed by Urban Maestro has proved an effective way of organizing a variety of public action into a structured analytical framework, allowing for a better understanding of what is being done, and potentially how it could be improved. However, more research and practice are needed to understand and measure the benefits and limitations of soft-power tools of urban design governance in contexts where informality tends to be the norm. While the 'European' Urban Maestro soft power approach merits a contextualized application outside Europe, a feedback-loop will help to construe and embed adaptive soft-power urban design governance in European development collaboration with other regions, countries, and cities.